Smart thinking about procurement: A roadmap to success
Smart thinking about procurement: A roadmap to success
How smart thinking about procurement leads to better project outcomes (and fewer headaches)
In complex and large construction projects, procurement is often complicated and high risk. For many NSW Public Works clients, such as infrastructure directors and managers who aren't directly involved in projects day in and day out, delivering a multi-million-dollar project can be daunting. Peter Hogan, Capital Works Director at NSW Public Works, who has more than 30 years' experience in construction, explains how thinking strategically about procurement leads to project success.
What is a procurement strategy?
A procurement strategy is a written document that outlines a project's objectives, context, risks and issues, and recommends specific mitigation strategies. It looks at how procurement is integrated into the entire lifecycle of a project. In short, it is a strategy to deliver a project from start to end and is the centrepiece of a project plan.
A procurement strategy differs from a procurement plan, which maps out the steps in the sourcing phase and doesn't necessarily include how procurement will be incorporated into all stages of a project from start to end.
Why is a procurement strategy important?
A procurement strategy plots out the critical project activities that need to be completed and the best way to do them. It recommends and provides specific guidance on how and when to engage consultants, contractors and suppliers; the most appropriate contract type; and how to leverage the NSW Government's tendering procedures to ensure best value outcomes are achieved.
These recommendations are particularly useful for infrastructure directors and managers at local councils or state government who are responsible for delivering large projects but may have limited experience or knowledge in that area. Equally, the procurement strategy can be shared with a client's board and executive to demonstrate that all risks and issues have been considered and are being managed.
How is a procurement strategy developed?
The project manager is responsible for developing a procurement strategy. A good project manager understands the different project processes and ways a contract can be used and assembled. They bring experience, intelligence and innovative thinking, which they combine to successfully deliver a project.
The creation of a procurement strategy shows that a project manager understands a client's project and concerns, can identify and manage the risks, and knows the best start-to-finish strategy to deliver the project successfully.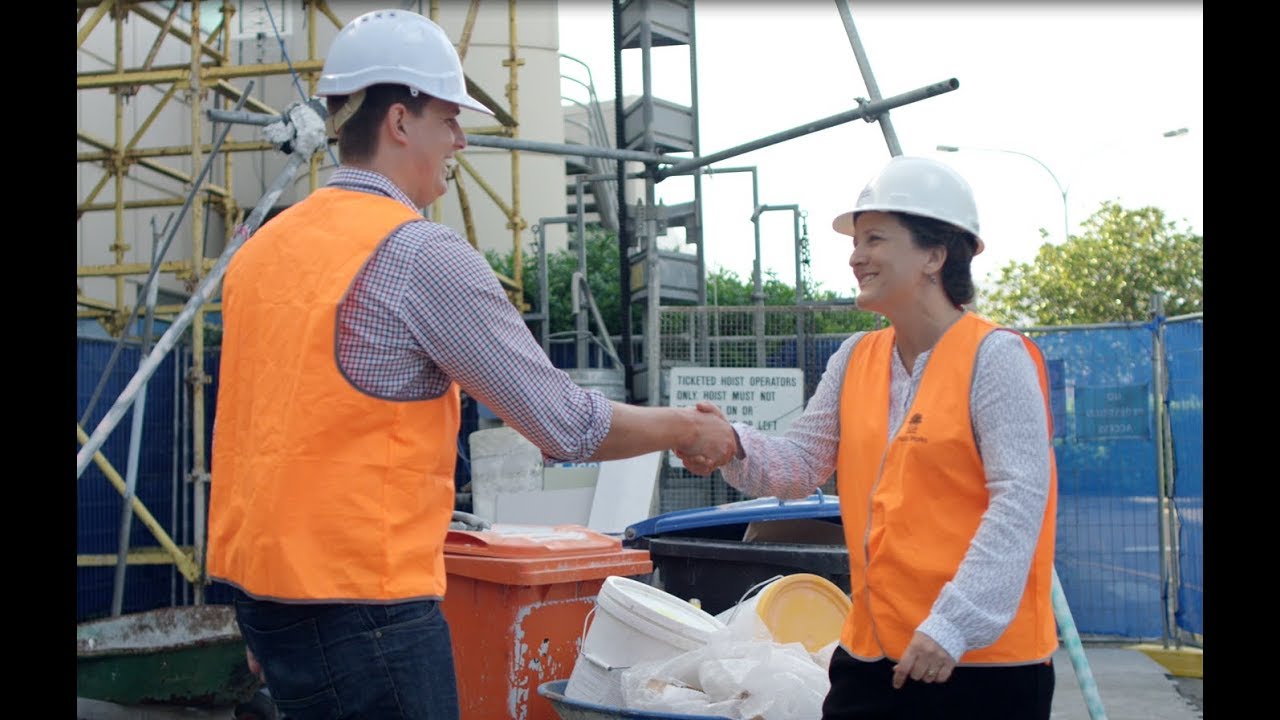 Video
NSW Public Works Construction Procurement
Which projects should have a procurement strategy?
All complex projects should have a procurement strategy as these projects have a diverse range of risks, issues and stakeholder expectations. Preparing a procurement strategy requires a significant amount of effort, which is another reason they are developed for complex and large projects.
Beside large projects, there is value in doing a scaled-back strategy for smaller projects. A concise version of the procurement strategy, involving identification of key risks and issues and a strategy to manage them, can really help to improve project outcomes.
Who creates a procurement strategy?
Identifying potential risks and issues of a project should be done in collaboration with key stakeholders. Three workshops are recommended: first, with the client and operator; second, with the consultant teams and client; and finally, with the tendering builders as part of the Early Tenderer Involvement phase.
Once the risks and issues have been identified and understood, the project manager must look at the best fit mitigation strategies from project start to finish. For example, this would involve considering contract options such as a lump sum contract, design and construct contract, novation of consultants or managing contractor contract.
When should a procurement strategy be developed?
Thinking about procurement begins on day one of a project - or even earlier. It is vital that all risks and issues be considered from a project's outset. If the front end of a project isn't managed properly, then the back end becomes more expensive and difficult to manage.
How is a procurement strategy used during a project?
A procurement strategy is a living document that is consulted regularly. As the project moves through its various stages, the strategy is reviewed and discussed with clients to understand why specific decisions have been made. It's not a document that lives in the bottom drawer.
Sometimes, the strategy will be tweaked or changed. For instance, a project may face delays due to approval processes or budget issues, resulting in a need to reconsider the contract type. The strategy should be regularly reviewed in light of changing circumstances, and any changes must be discussed and agreed with clients.
Procurement strategy in action
Building and installing fish diversion screens in the Darling-Barwon River
In early 2021, the Department of Primary Industry (DPI) engaged NSW Public Works to advise on a project to fabricate, install and construct fish diversion screens for river pumps in the Northern Basin of the Darling-Barwon River system. The unique and complex project consisted of 136 screens in remote locations requiring varied design and installation solutions. Delivering these involved engaging with multiple stakeholder groups, including DPI, local council, local contractors, willing water-users, irrigation engineers, screen manufacturers, installers and the local community groups. A procurement strategy was developed after a two-day deep dive assessment, site meetings with stakeholders along the river, and a one-day risk and procurement workshop. The strategy recommended splitting the procurement into two work packages:
for those situations with smaller and accessible river pumps - direct sourcing from the suppliers who could design, fabricate and install the screens, and
for larger river pumps with big screens and increased site complexity – calling tenders for a head contractor responsible to procure the site specific screen design, fabricate and install the works, which also included river bank works.
This procurement approach had many benefits, including increased likelihood of the right bidders participating for each component, better bids received, and greater value for money as the project was delivered to time, quality and budget.
Helping to deliver a thriving Parkland City in Western Sydney 
As part of the new Western Parkland City, the future home to Sydney's second airport, NSW Public Works is working with Western City Parklands Authority (WCPA) to deliver the first building and access infrastructure in the Bradfield City Centre. The building will be home to an Advanced Manufacturing Research Facility and visitor centre. WCPA could have originally pursued two work packages – one for roads and one for the building. NSW Public Works was engaged to prepare the procurement strategy working alongside their team, manage the procurement of the contractor and deliver the project. After analysing the risks of having two contractors on site, it became clear to WCPA and NSW Public Works that novating the design consultants and having one contractor managing both packages offered better value for money and better risk management across the total project.
How can NSW Public Works help with strategic thinking around procurement?
NSW Public Works can step in to help plan and manage construction procurement in accordance with best practice:
Before a project starts is best. When a project is being planned and the funding submission prepared, NSW Public Works can provide initial procurement advice to organisations. Even one conversation can be helpful so NSW Public Works can advise on critical risks and issues of concern and how they can be managed.
Once funding is approved. Before engaging other consultants, talk to NSW Public Works to get strategic advice and feedback on delivering your project.
Once a project is underway. NSW Public Works can support delivery of your projects in a range of ways. For instance, NSW Public Works can provide advisory services, be engaged to deliver a project, or just prepare the procurement strategy.
Does your project need help with procurement strategy? Get in touch with a NSW Public Works regional director or Andrew Cruckshank, our dedicated Director of Construction Procurement and Social Benefit, today to discuss your project needs: