Quick removal of flood waste helped communities get back on their feet
Quick removal of flood waste helped communities get back on their feet
The February and March 2022 flood events devastated communities in the Northern Rivers and Hawkesbury regions, leaving a trail of waste in its wake. The flood waste included destroyed building, household contents, asbestos contaminated waste, and green waste.
NSW Public Works, under its NSW Engineering Emergency Management function, was initially involved in the response efforts by assessing the impact of the flooding on regional infrastructure, damaged homes and properties, flood waste management, and assisting in the establishment of recovery centres. During the response phase and for several months afterwards, NSW Public Works coordinated the major flood waste clean-up campaign, including establishing temporary waste transfer stations and kerbside waste collection in several of the worst impacted local government areas.
Over 220,000 tonnes of flood waste were removed from flood affected communities with help from contractors and NSW Public Works' colleagues at Soil Conservation Service, with most of this removed from communities within 45 days. "It has been an outstanding effort from everyone involved, including our staff, local councils, contractors, the Environmental Protection Agency and Resilience NSW," said NSW Public Works State Deputy Emergency Engineer Phil Beddoe.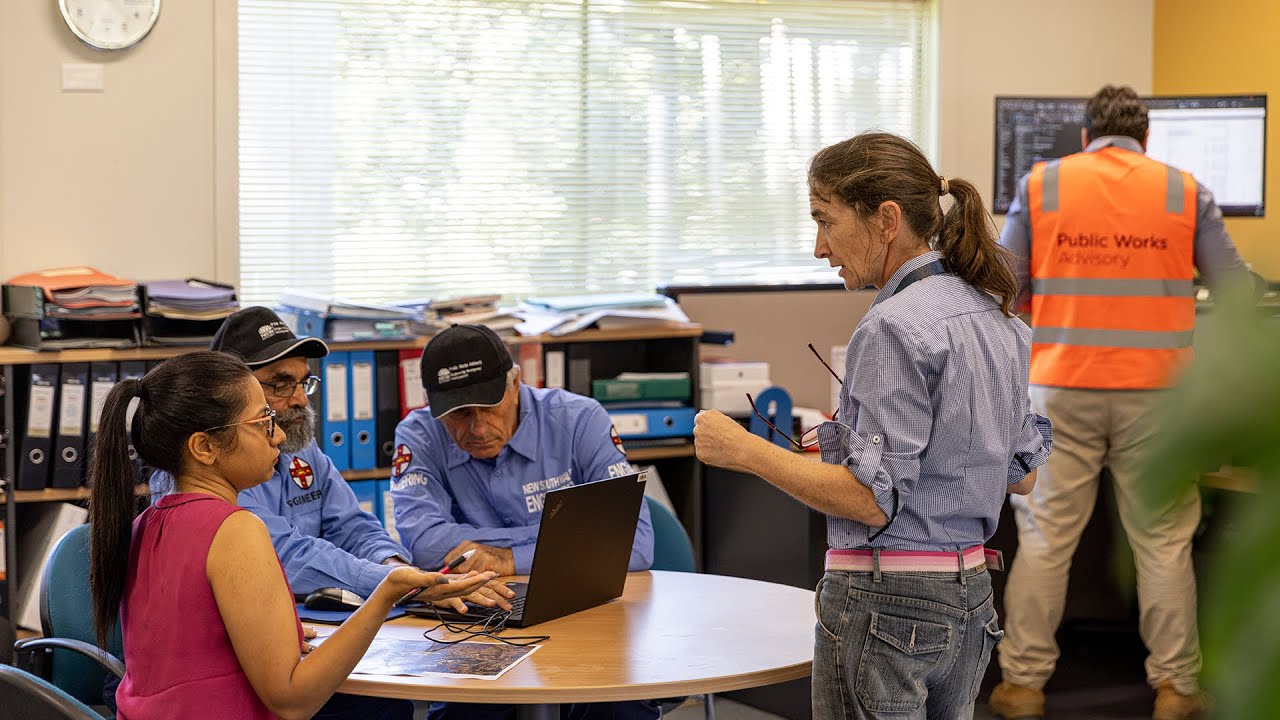 Video
NSW Public Works Emergency Response Lismore Floods
The rapid waste removal was achieved through an innovative method of using temporary transfer stations. Once waste was removed from the kerb side, the waste was stockpiled at nearby temporary transfer stations then processed, sorted and efficiently removed by larger vehicles to commercial facilities. "Through this approach we recycled steel, got much better payloads on the road, reduced truck movements by around 16 million kilometres and saved around $30 million in transportation and waste costs."
More than 120 contractors, employing more than 800 people, were involved in the flood clean-up. Of the 120 businesses, 88 were local businesses directly impacted by the floods. "This was achieved by our regional presence and local networks, engagement and collaboration with local councils and their panels, and our own contractor panels. Involving local contractors is great for getting communities back on their feet after these flood events," said Mr. Beddoe
Supporting the 2022 flood clean-up has been a great opportunity to support our local people by using local labourers, machines and trucks to get their homes and land back to better than before. Peter Eather, Managing Director, Eather Group
Key Outcomes
121 businesses engaged
88 (local) within the affected area, 33 regional, 5 Aboriginal, 113 small to medium enterprise
800 people employed
Approx. 10% of businesses employing Indigenous workers
220,000+ tonnes of flood waste removed from affected communities
$30 million savings in waste disposal fees through bespoke clean-up strategy