Supporting smarter digital design and asset management across regional NSW
Supporting smarter digital design and asset management across regional NSW
Article Highlights
NSW Public Works is supporting the roll-out of consistent digital engineering and asset management principles in regional NSW.
Cloud-based tools have been rolled out to support better collaboration among project stakeholders.
Advanced equipment and technology is being used to create 3D representations, helping to identify real-time design clashes and reduce costs.
NSW Public Works launched its digital engineering framework in April 2022, marking a critical first step towards its vision to implement global best practice for managing digital information and collaborating on designs by 2023.
Over the next three years, NSW Public Works will embed the framework, with a focus on creating, capturing and integrating all project data using digital skills and through advanced technologies. In support of this, NSW Public Works has invested significantly in high-end hardware and new specialised teams and is building several bespoke applications across the business.
"Through thinking differently and maintaining a strong focus on upskilling staff and working smarter with technology, we will help regional NSW face the challenges of the next decade—to build and operate more with less," said NSW Public Works Director of Operations Sam Thomas.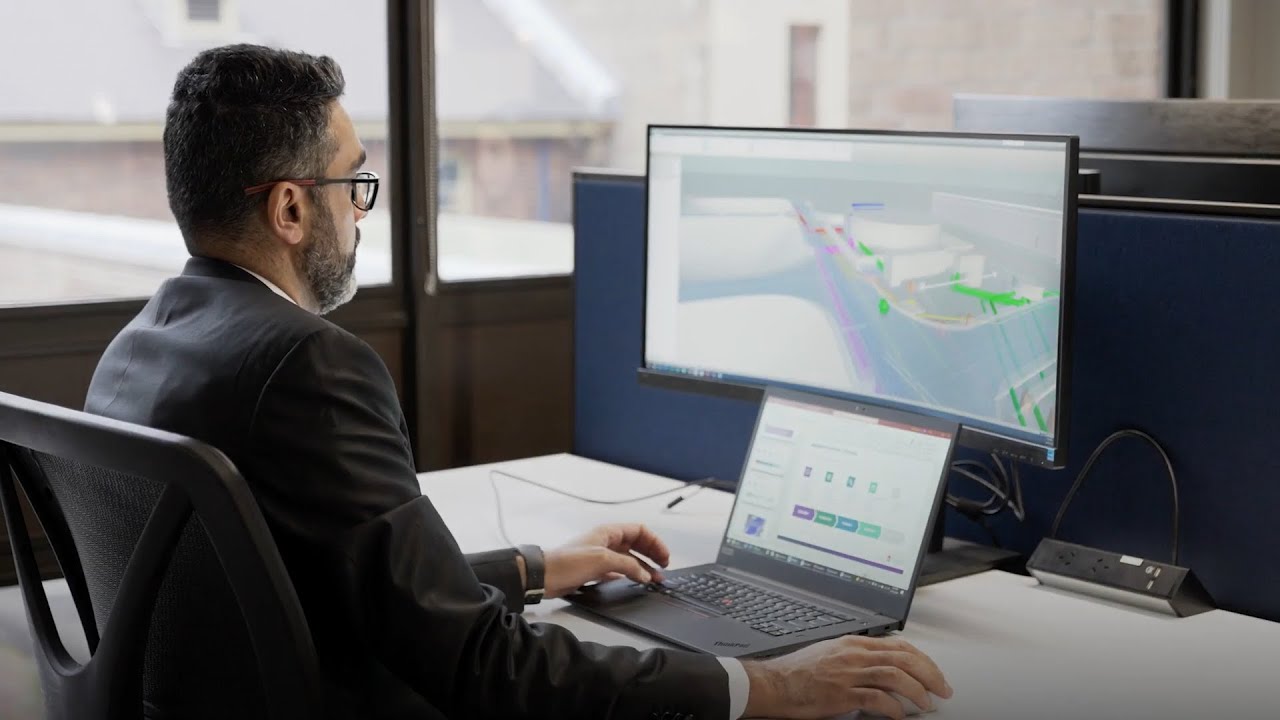 Video
NSW Public Works Digital Design and Delivery - Investing in digital design and asset management technologies
Developing a Digital Engineering Standard for regional infrastructure
NSW Public Works is finalising its Digital Engineering Standard, which it hopes to make available to its council partners and embed in its contracts by as early as December. Currently, a fit-for-purpose prescriptive standard, and accompanying naming conventions, design guides and asset classifications, do not form part of government's GC21 contract, or most NSW Public Works' and councils' tender documentation in the regions. This inhibits uptake and progress in the digital engineering space.
"NSW Public Works is hoping to leverage the investment it is making in this area by integrating the practices into key design processes and contractual mechanisms," said Mr Thomas. "There is a real multiplier effect opportunity to help drive capability uplift and consistency across regional NSW."
"This will achieve efficiencies during the build and set up operators and asset managers for success in the long run."
Cloud server supports better collaboration
NSW Public Works has rolled out cloud-based design collaboration tools, enabling project stakeholders to work more efficiently. "The cloud server manages a project's digital information, including survey, geographic information, 3D models, drawings, bill of materials, estimations and site documents," said NSW Public Works Senior Manager Digital Engineering Mike Taherian.
Project members can collaborate in real time and harness the power of cloud processing to generate and simulate multiple design options using advanced methods, pick up real-time clashes and estimate the cost. "This increases the efficiency of engineering teams, improves the quality and reliability of design solutions for design teams, and optimises maintenance activities and information sharing for asset managers," said Mr Taherian.
The digital team is also working to digitise and integrate survey, geographic information systems, building information modelling, and water and wastewater projects. "Rolling out digital engineering workflows enables us to better meet the needs of our clients."
'Game changer': Advanced survey technology enables digital models
The NSW Public Works survey team is using the latest equipment and technology—such as laser scanners and advanced drones—to quickly capture millions of data points from large areas over existing infrastructure and the built environment.
"This detailed data is used to create a 3D representation in an online viewing program, providing the foundation for design engineers and architects to develop a design," said NSW Public Works Principal Surveyor Jarad Cannings. "Project members can measure or mark up any element in the 3D viewer and undertake a virtual site visit while at their computer; it's a game changer."
This advanced survey approach was used in the upgrade of the Tuross Heads Sewer Pumping Station (SPS) on the south coast of NSW. "The NSW Public Works survey team created 3D visualisations of the proposed switch room building," said NSW Public Works Senior Project Manager Ross Bailey, who led the project. "The representations were incredibly detailed and accurate, allowing the project team to assess the impact of the works on neighbouring properties and the public area. This spatial data will also be used to facilitate the detailed design of the SPS upgrade."
3D models identify real-time design clashes, reduces costs
Since April 2020, NSW Public Works and Clarence Valley Council have worked together to design a new Sewage Treatment Plant (STP) in Grafton, situated on the north coast of NSW. As part of a digital engineering pilot, the project's 2D existing design drawings were converted into an intelligent 3D model.
"The cloud platform allowed us to identify any 3D model design clashes, such as pipelines and conduits or structures and resolve them before they occurred in the real world," said NSW Public Works Principal Wastewater Engineer Brett Douglas, who is the design manager for the Grafton STP. "This cuts down the risk of expensive variations during construction of the STP."
Interactive walking trail built on advanced spatial technology
Since August 2021, NSW Public Works has been working with the Eurobodalla Shire Council to oversee the project planning and implementation of the Batemans Bay Coastal Headlands Walking Trail and observation point upgrade.
Using the latest spatial technology, NSW Public Works created an interactive map showing the trail's planned route in detail and providing additional information about some of its features.
"The app includes fulcrum data, so when a staff member walks the trail, they can take photos of where improvements need to be made or potential vista shots. That information is pulled into public-facing version of the app that's available on the council website," said NSW Public Works CAD and Spatial Manager Shaun Epe.